Alexandra Performs at horseshoe casino!
Every Thursday night, Horseshoe Casino will be featuring "Hookah Nights" exclusively at Push, from 7pm – 1am. Featuring performances from Alexandra the Romanian Belly Dancer and with music from DJ Rodney. Alexandra makes appearances every other week at this hype event. Alexandra's showtimes are at: 9:15pm, 10:30pm, and 11:45pm.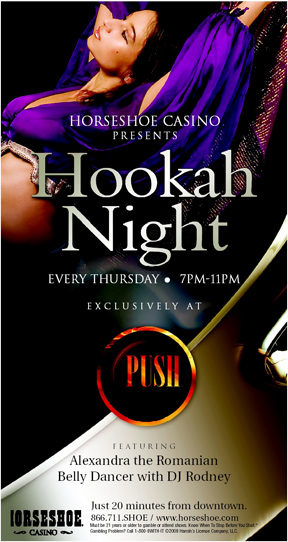 Hookah Menu as follows:
Individual Tobacco Flavors - $15
Strawberry
Grape
Mixed Fruit
Orange
Sweet Melon
Cherry
Blueberry
Vanilla
Apple
Lemon
$5 for a refill of any Individual Tobacco Flavors

Premium Flavors - $17
Blueberry Pancakes
(Blueberry, Vanilla, Lemon)
Cherry Vanilla Coke
(Cherry, Cola, Vanilla, Soda Water)
Orange Cream Soda
(Orange, Vanilla, Soda Water)
$6 for a refill of any Premium Flavor
Earn Reward Credits® on all non-gaming purchase.
Upcoming performances at horseshoe casino:
ALL PERFORMANCES FOR THE HORSESHOE CASINO ARE CURRENTLY ON HOLD UNTIL FURTHER NOTICE. PLEASE CHECK ALEXANDRA OUT AT SAMAH HOOKAH LOUNGE at 3330 N. Clark in Chicago!
CASINO Gallery: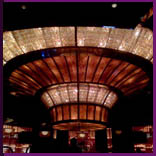 CASINO Quicklink: